How to Recall an Email in Yahoo, Gmail and Outlook [Step by Step]
We've all been there before. You send an email and then realize that you made a mistake sending to the wrong person, hit the wrong button, or simply regret sending it. Thankfully, most email service providers now offer a recall feature to unsend an email. Here's how to do it in Gmail, Outlook/Hotmail, and Yahoo.
How to unsend an email in Gmail?
The email/message recall on Gmail can be achieved with the following steps:
Step 1
Open your gmail account and on the top right corner click settings – the gear button (1). The click see all settings (2)

Step 2
Under the general settings there is the Undo send section with the undo option. Choose the cancellation period/undo send period you prefer. It's most preferable to set the maximum which is 30 seconds. So, within those 30 seconds you will be able to cancel your email message.

Step 3
Once you have set the send cancellation period, scroll at the very bottom and click save changes

So from now on, when you send email via your browser or google apps, on the bottom left corner you will see a pop up with the gmail undo button which will be displayed for 30 seconds. There you have the option to click undo. When you click the undo, those email messages are moving to the drafts folder.

How to unsend email in Outlook?
The following steps are applied to the web app through the browser, however similar settings can be found on the outlook app
Step 1
Open Microsoft Outlook/Hotmail on your browser and click the account settings/gear icon in the top right corner of the screen.

Step 2
Click "View all Outlook settings."

Step 3
Under "Email" -> "Compose and reply" (1) scroll down to the "undo send" (2) section. Move the slider to 10 seconds (3) and then click save(4).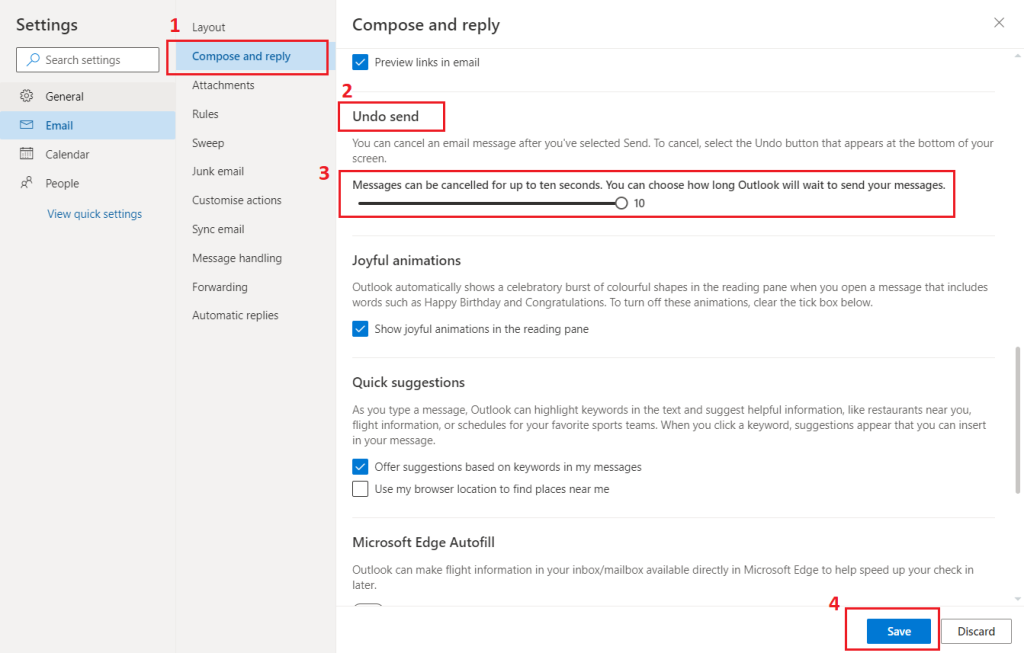 When you send email next time you will see a little pop up in the bottom of the screen where you have 10 seconds to click the undo button.

How to recall an email in Yahoo?
You may recall an email as you did with the other email services. However, on the web app, yahoo does not provide a recall function, but it is available in Android and iOS mobile apps only.
So, when you compose an email and hit the send button in your yahoo mobile app, the software will automatically take you to an inbox screen with an alert at the bottom of the display that includes the undo button. This warning will vanish after 5 seconds, so you only have 5 seconds to recall an email in yahoo.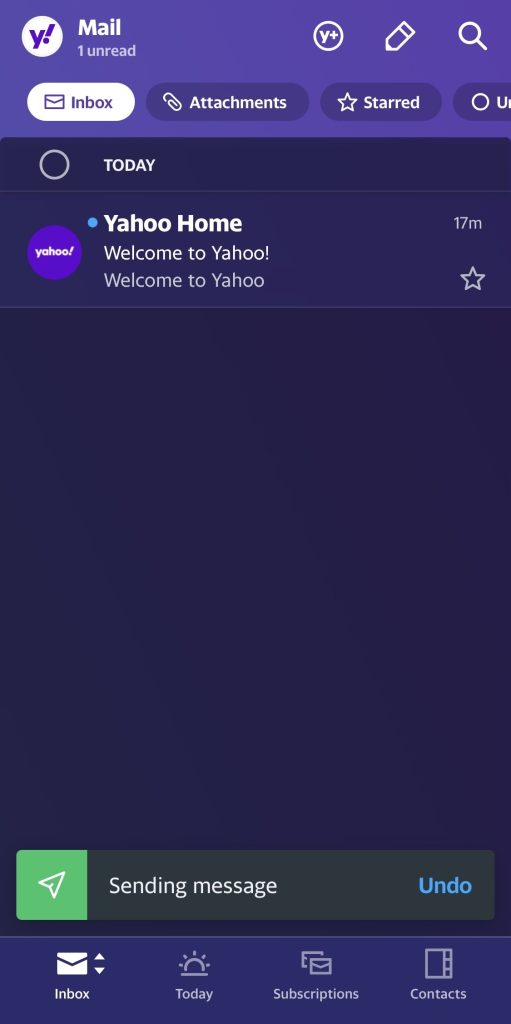 How to recall yahoo email with other apps
There are a few different ways that you can recall a Yahoo email using other apps. One option is to use Spike, which is an email app that integrates with Yahoo Mail. Spike allows you to recall an email that you've already sent, as long as the recipient hasn't already opened it.
Another option is to use Mailbird, which is an email app that also supports Yahoo Mail. Mailbird has a similar feature that allows you to recall an email before it's been opened.
How to unsend an email in Microsoft exchange server?
Process for unsending an email / recall messages in Microsoft exchange is a little different. Instead of having a dedicated unsend feature, you have to enable the recall feature in your message options. To do this, follow these steps:
Open a new message and click on the Message tab (1).
Click on the Options tab (2). Options tab should now be open.
Under Message options (3), check the box next to Enable recall on messages I send (4).
Click OK.
Now that the recall feature is enabled, you can unsend message / email by following these steps:
Open the sent items folder and then double click on the sent email you want to recall and click on the Message tab.
Click on Actions and then click Recall This Message. A new message window will pop up.
In the new window, click Delete unread copies of this message or the other message command Delete unread copies and replace with a new message.
If you want a replacement message of the original message, compose your new message in the text box (2). If not, leave the text box blank.
Click OK (3).
The recall process will now begin and you will receive a notification when the recall succeeds and it's complete. Note that this might work only when both the sender and the recipients are on Microsoft exchange or Microsoft 365 and in the same organization.
Can you unsend an email with any email service
Most email clients offer some way to unsend an email, though the steps may be slightly different. If you're using a different service, such as apple mail, iCloud Mail or AOL, check their support pages for more specific instructions.
In general, you'll need to enable some sort of "undo send" or "delay delivery" feature in the settings. Once that's done, you should be able to unsend an email within a few seconds of sending it. So if you make a mistake or have second thoughts, you can always unsend that email.
Do note that not all email providers offer this feature, so it's worth checking first. Additionally, even if an email provider does offer this feature, there's no guarantee that the email will be unsent successfully. So if you're sending an important email, it's always best to double-check before hitting send.
How to avoid the necessity to unsend emails?
Of course, it's always better to avoid making mistakes in the first place. Here are a few tips when you send new message:
View message and read carefully before you send it. This may seem obvious, but it's easy to miss typos or other errors when you're reading quickly.
If possible, write your email in a text editor such as Microsoft Word or Google Docs, and then copy and paste it into your email client when you're ready to send it. This way, you can catch any errors before sending.
Consider using an email template for important emails. This way, you can simply fill in the blanks and don't have to worry about forgetting any important information.
Take your time. It's better to send an email a few minutes late than to make a mistake that could cost you a client or damage your reputation.
FAQ
Can you unsend an email in Gmail after an hour?
Unfortunately, Gmail's unsend feature only works within a few seconds of sending an email. So if it's been more than a few seconds, you won't be able to unsend the email.
Can you delete an email already sent?
Yes, you can delete an email even after it's been sent. However, once the email has been delivered to the recipient's inbox, they may have already read it. So if you want to delete an email, it's best to do so within a few seconds of sending it.
Is there any tool to unsend emails?
There are a few tools that claim to be able to unsend emails such as Spike and Mailbird.